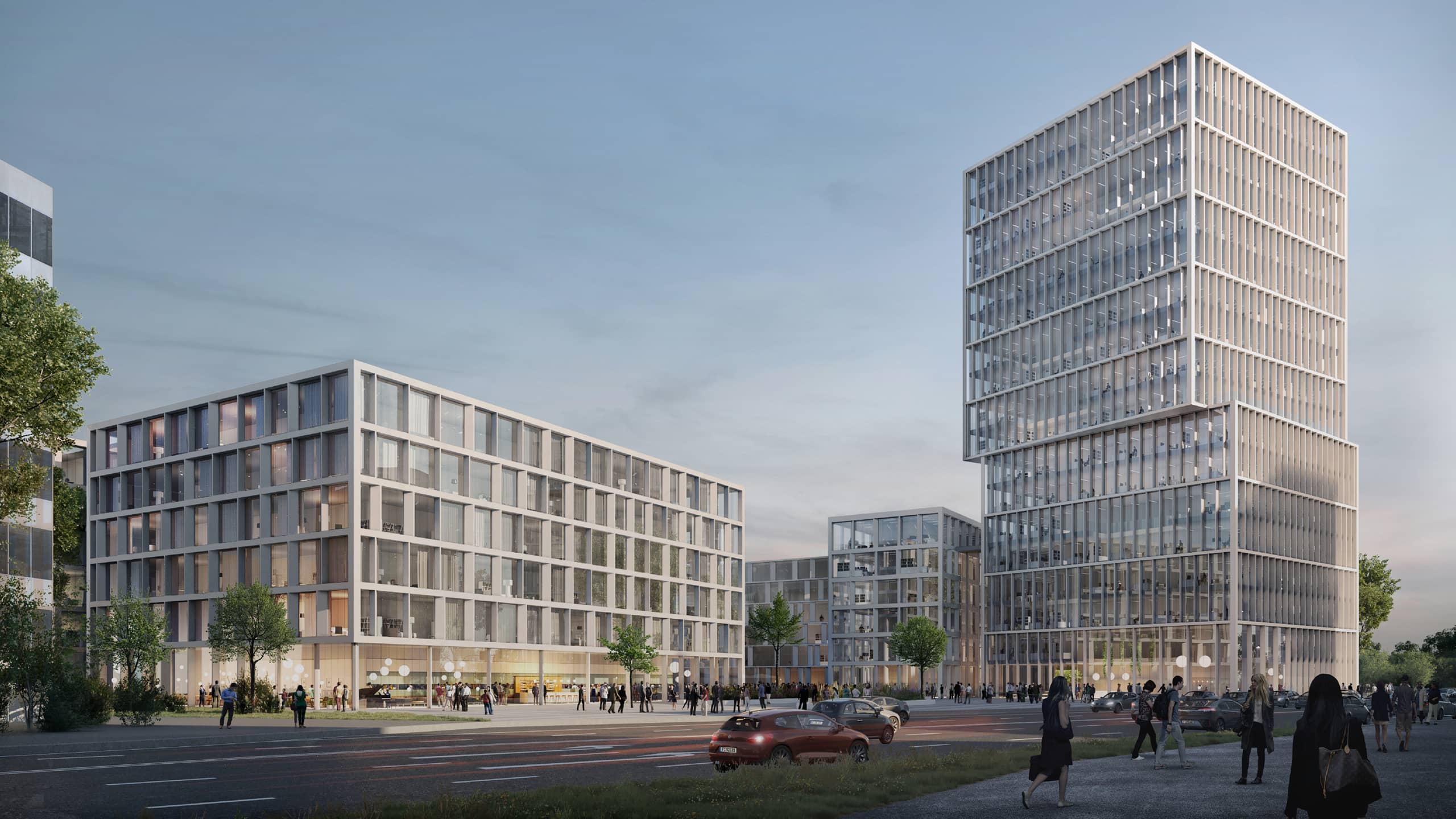 Business campus
of
the future Intro
An architectural highlight
Are you looking for a high-end commercial location that will flexibly adapt to your business plans? You would prefer a vibrant location distinguished by excellent accessibility and first-class features?
Welcome to Eschborn Gate. A campus that impresses even from afar and makes a mark as the new gateway to the desirable Eschborn-Süd business district in the centre of the Frankfurt/Rhine-Main metropolitan region. It's an ensemble that also impresses close up. The heart of the campus is its green YARD, a central space that can be accessed from all the buildings: THE HUB, GATES 1, 2 and 3 and the TOWER, which will be used exclusively by SAMSUNG in the future. An outstanding neighbourhood, therefore, that you could take your place in.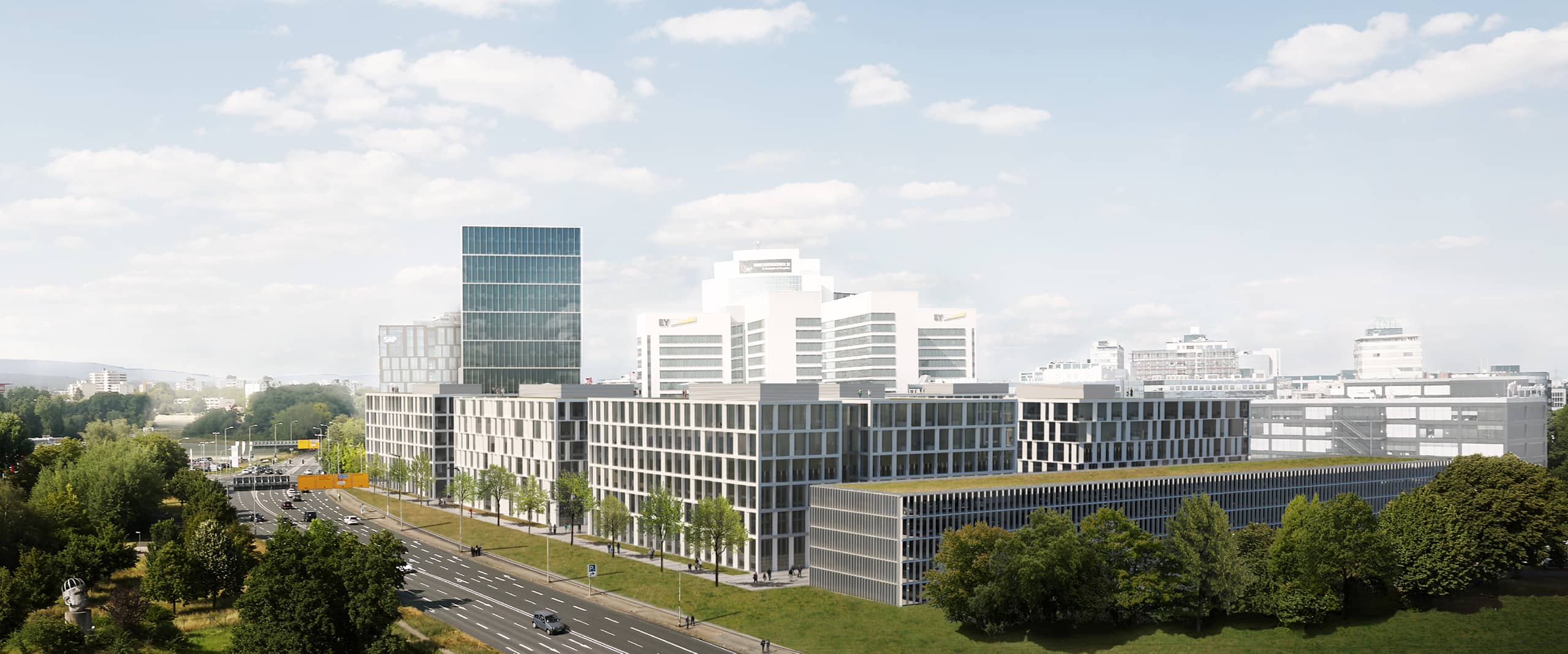 Best
connections
for today
and
tomorrow
Besides good visibility, Eschborn Gate offers perfect connections. The A5, A66 and A648 motorways and Frankfurt intersection are just a few minutes away. Large European cities such as Munich and Brussels are only three hours away by train, Frankfurt Airport just 14 minutes. The nearby Eschborn-Süd stop is the interface with the public transport network: in future, you'll be able to travel directly from the Hochtaunus district to Neu-Isenburg/Dreieich via the airport using the Regionaltangente West rail link. Numerous successful companies already appreciate these benefits: SAP, Vodafone, Swatch and Huawei are also based in Eschborn.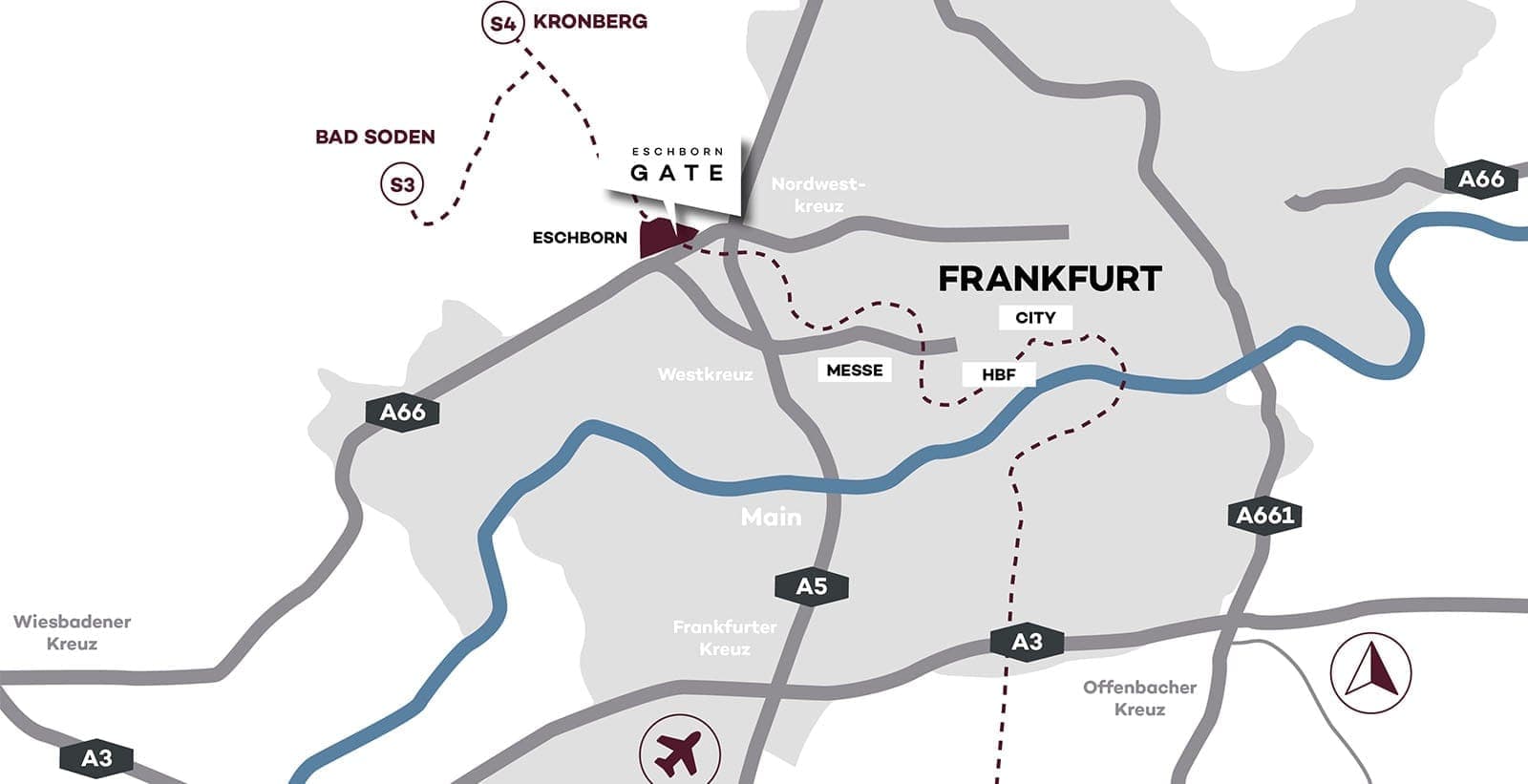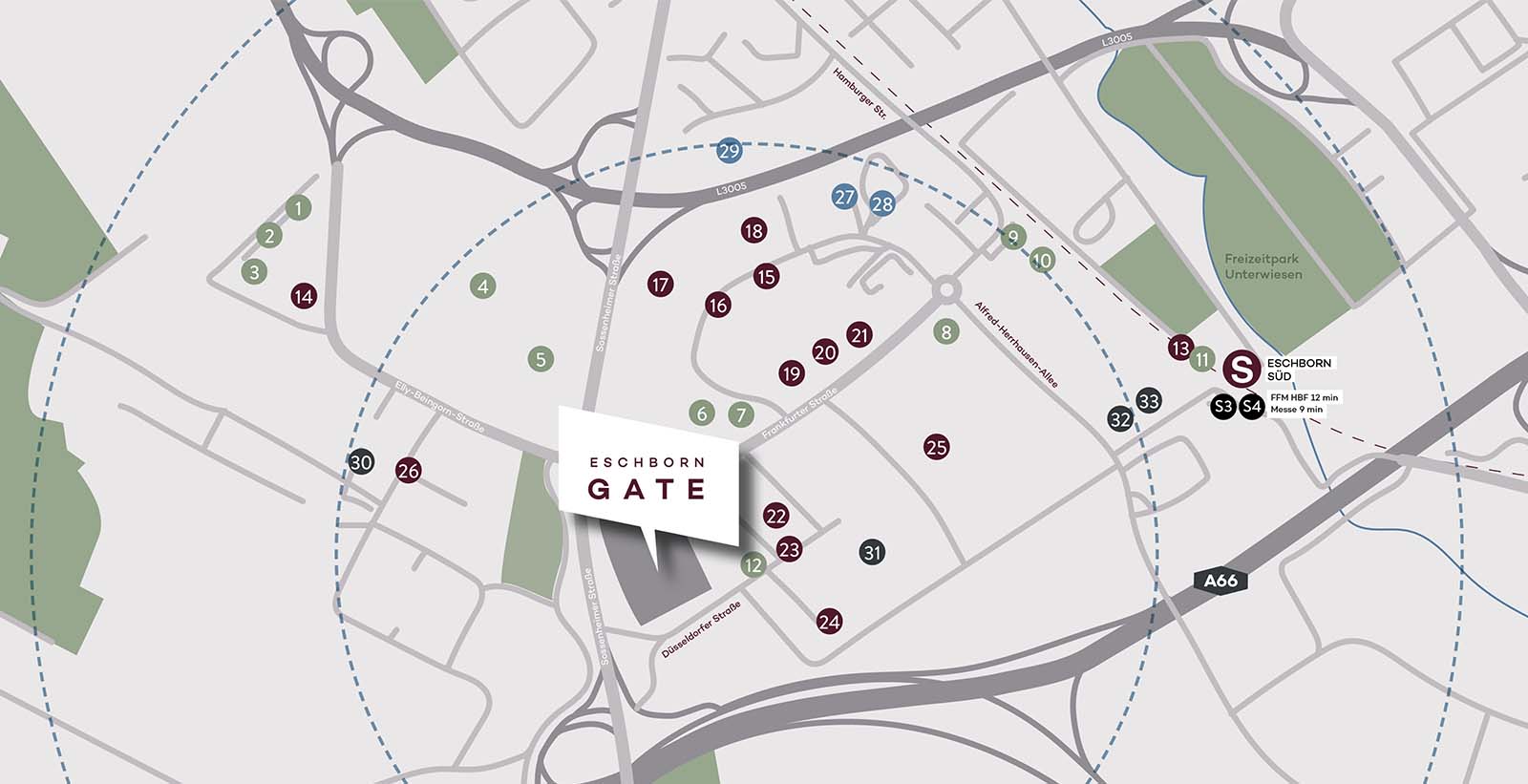 Shopping
ALDI
REWE
dm drugstore
Fruit & Vegetable seller
denn's organic supermarket
Schäfer bakery
Am Plaza textile cleaning
REWE
DHL Parcel shop
Diamond Clean textile cleaning
Wiener Feinbäckerei
Deutsche Bank
Restaurants/Cafes
Restaurant Eszen
Camp Phoenix Park Grill
Bowls & Co
Royal Persian Food
Mit Beo - Hanoi Cuisine
MoMo - Korean Cuisine
Best Worscht In Town
Thaitime
Le café bicyclette
New Wave Espressobar
Desi Adda Imbiss
Ruchi - The Curry Truck
Skyline19® eat|drink|refresh
Vespergärtchen
Daycare / Schools
Kindergarten
daycare
daycare / school
Fitness / Health care
ELEMENTS Fitness
Fit SevenEleven
practice for cardiology and angiology
Sportzentrum Eschborn
50.000 –
60.000 sqm
Total Floor Area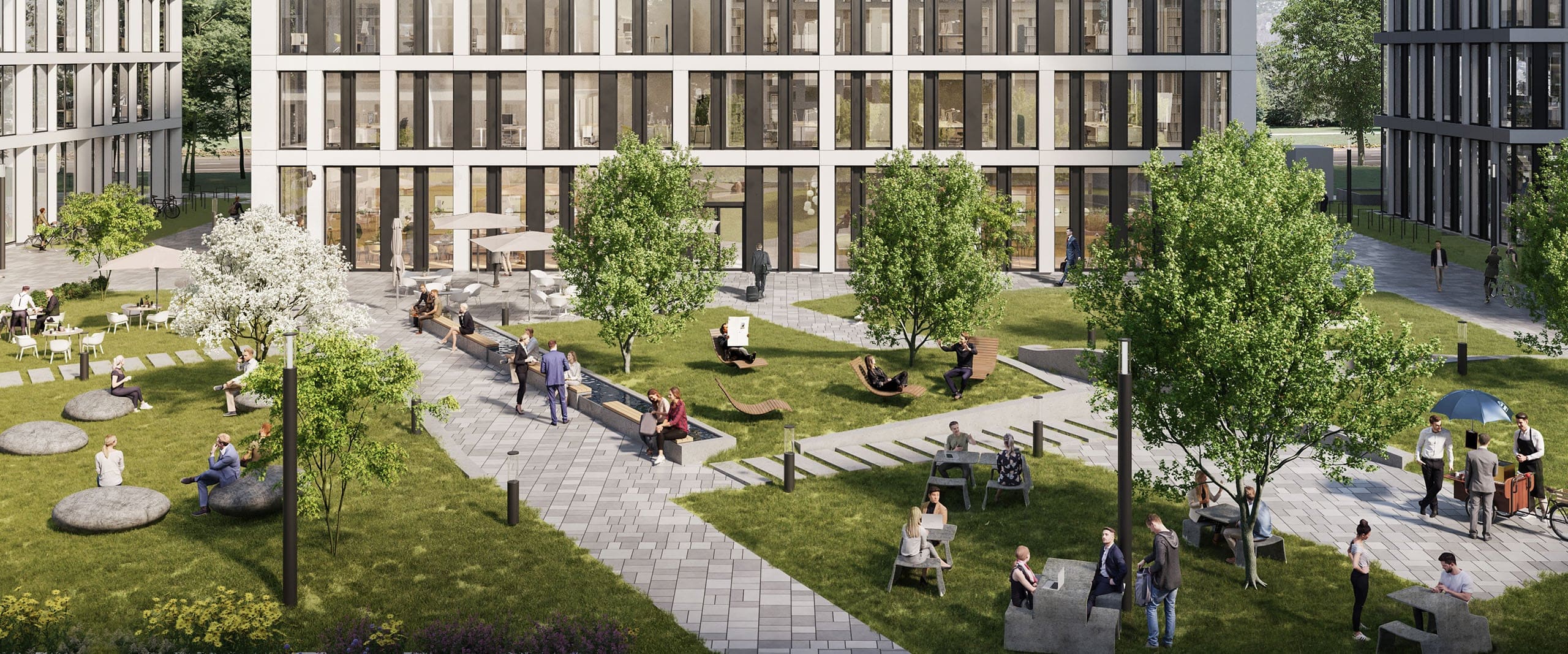 Great
prospects
for your
business
Eschborn Gate is distinguished by transparency and generosity. Buildings with light façades, workspaces flooded with natural light and the lively neighbourhood square combine to create a harmonious whole that offers visitors, customers and employees an excellent ambience for work and leisure.